You see, there really are only four major sources for computer and network troubles.
Unstable and unreliable hardware.
Security, virus and hacker attacks.
User mistakes.
Improper preventative maintenance.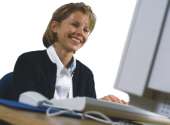 At Demand Systems, we start by helping you select computers that you can rely on. We hand pick the very best components in the computer industry, ones that are tried and true for reliability, affordability and performance.
When it comes to service and support you have found the right place. Our staff is very friendly and helpful. We talk to you in a way that makes sense, not a lot of jargon that confuses you. We show you your options and provide expert advice.
And, something missing with many service providers, we provide a PROACTIVE approach to computer and network service. The cost and inconvenience to your company is too much when you always have to call a technician to "put out a fire." Our emphasis is on keeping you away from trouble in the first place through preventative and proper care of your technology.
Announcing a New Way To PREVENT computer and Network Trouble
Keeping your business' technology running smoothly just got a whole lot easier and more affordable with Demand Systems' Monthly Support Program.
Find out more
Demand Systems started business right here in Camarillo, CA
in 1984.
More About Us
47 Little Known Computer Secrets That Save You Time and Money.