About Us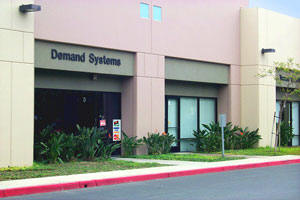 Demand Systems began business here in Camarillo, California in 1984. We moved to our current location in 1993.
Today the company's emphasis is on delivering computer technology and services that help your office run more productively and smoothly.
Here are some of the products and services we provide:
Computer Systems: Based upon your needs, we will recommend top grade, highly reliable custom or production-based computer systems that your company can depend on when you need them.

Hardware Components: If you need it, we have it or can get it right away.

In-shop repairs on a large variety of PC makes.

On-site services such as:

On-going monthly support programs designed to proactively prevent computer and network trouble.

PC Services such as repairs, upgrades, troubleshooting and maintenance.

Network design and consulting services.

Productivity Improvement solutions: we help you determine ways to improve your company through the proper use of computer and software technology.

Training: we show your staff how to stay out of problems and make your technology run smooth and fast.
Remote Backup Services: Safely keep your data backed-up at night to a remote server without having to think about it.
Web Design Services: Let us handle your website needs.